Doyle Dinner Night Out
Doyle Dinner Night Outs are an easy and tasty way to earn money for our school. By simply dining at the designated restaurant and presenting the Doyle Dinner Night Out flyer, a portion of your total purchase will be donated back to the Doyle Elementary PTA. Flyers will be posted here on the PTA website and will also be sent home with your student's in advance of the events.
MIXED BAG DESIGN FALL FUNDRAISER
Mixed Bag Designs is a Fundraiser Doyle PTA has partnered with 50% profit going to Doyle! We are looking to raise $5,000 for Grade Level Grants and classroom education supply grants. Please sell using the catalog that went home with your students or online at
www.mixedbags.com
using Doyle ID 355137. Selling to family, friends, neighbors, Co-workers, and online to out of towners! Post on your social media! Selling ends October 27th!
---
Amazon Smile
4714 Doyle Elementary PTA
If you shop online using Amazon, consider using Amazon Smile to help donate to the PTA with no added cost to you! For information on Amazon Smile click
here
.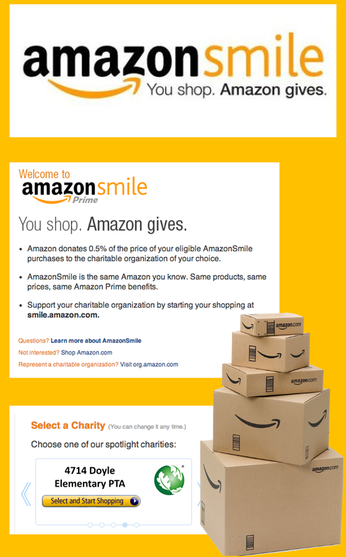 ---
Box Tops for Education
Lets help our Library!
Box Tops for Education has helped America's schools earn over $400 million since 1996. You can earn cash for Doyle's library by clipping Box Tops coupons from hundreds of participating products and turning them into the librarian. Box Tops also offers easy ways to earn even more cash for your school online by shopping via the Box Tops Marketplace. Click
here
to visit the Box Tops for Education website.
Our Goal for 2017-18 is $1000. Please cut those little squares and turn them in to support our Library.
Previous year's earnings: 2016-2017 $400+ 2015-2016 $216.80 2014-15 $1,179.64 2013-14 $393.26 2012-13 $1,065.06 2011-12 $551.86 2010-11 $646.06
---